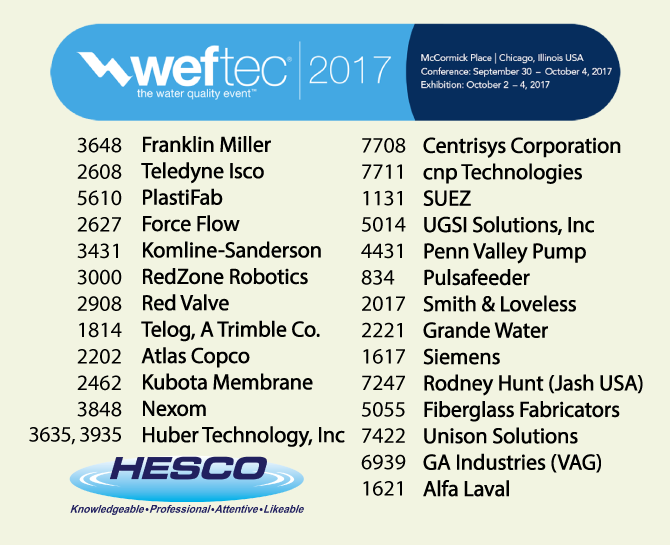 Twenty-six Manufacturers Featured at WEFTEC17
We are proud to show off our extensive line of manufacturers and equipment at WEFTEC 2017!
Here's some other things you don't want to miss….
SATURDAY
Workshop #5: Smith & Loveless presenting "Do's and Don't, Hands-on O&M and Grit Sampling and Characterization"
SUNDAY
Michigan Night 6:00-7:30pm Eastern
MONDAY
HESCO Road Rally at WEFTEC Exhibits
Siemens video shoot with Water Online 10:00am
Smith & Loveless (Booth #2017) Augmented Reality Display and XBox giveaway
Penn Valley Pump (Booth 4431) "Beer at the Booth" 3:00-6:00pm **Meet here to draw prizes for Road Rally!!
Suez Reception at Soldier Field 6:00-10:00pm
TUESDAY
Innovative Technology Forum: Sandra Schuler presenting for Huber Technologies on advanced primary treatment for carbon diversion 8:30am
Tour Kenosha Water Utility with cnp Technologies and Centrisys
Smith & Loveless (Booth #2017) Mobile Session #430 on Grit Removal Sizing Calcs, Based on Liquid/Particle Movement Equation"
Atlas Copco (Booth 2202) hospitality event with beer and snacks 3:00-6:00pm
Penn Valley Pump (Booth 4431) "Beer at the Booth" 3:00-6:00pm
HESCO Annual WEFTEC Customer Dinner (please check inbox for invitation)