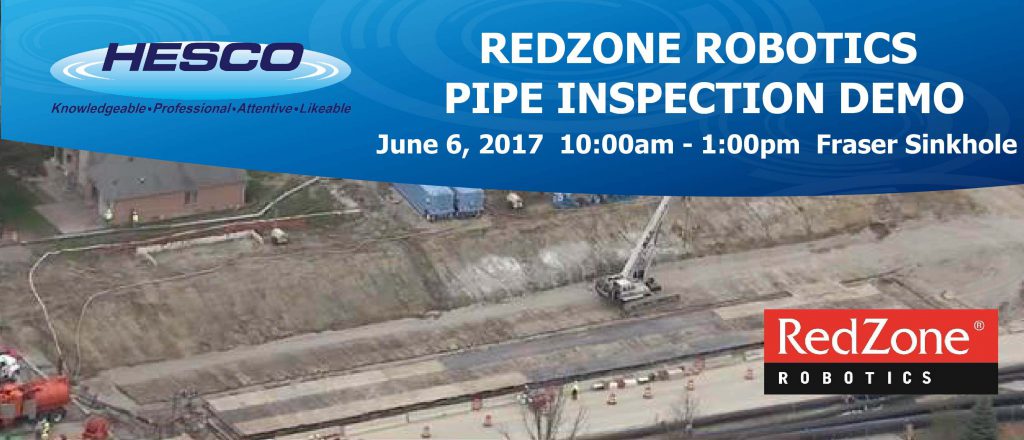 Red Zone Robotics Demo and Fraser Sinkhole Tour
Witness the innovative Red Zone Robotics pipeline assessment technology and tour the Fraser sinkhole site.
This winter a massive 100 foot by 250 foot sinkhole emerged in Fraser, Michigan. As a proactive measure, Macomb County hired RedZone Robotics, who started pipeline inspection near the sinkhole in early May.
RedZone had previously been hired by the County as part of SAW Grant to assess condition of entire system. Since the sink hole, Macomb County prioritized the areas near the sink hole for inspection to assist with repair planning and identifying any other critical conditions in that area.
Catch up with the RedZone Robotics crew and get a front row seat to see how efficiently the County is able to obtain clear and useful data, ultimately saving time and money.
10:00am – 11:30am Watch the inspection crew on-site using the RedZone Responder
11:30am -1:00pm Lunch and RedZone presention on MSI Reporting and Data Models
1:00pm – Macomb County has offered tour for those who would like to see the site
Please register no later than 6/4. More details will be emailed upon RSVP.
For more information on this or our other demonstrations, please contact Kip at kip@hesco-mi.com